Making carnival masks is always fun for kids (and this goes for some grown-ups as well!), but making a mask in which you can hide your whole head can bring tremendous excitement in the house, especially if one of your kid's best friend happens to be there when you make it! My daughter Mary and her friend Thanassis started working on the masks yesterday! We cut lots of strips of old newspapers and we bought some wood glue, a color spray (white) and two balloons!
We mixed some wood glue in a bowl of water and we put the newspaper strips in the mixture one by one. Every newspaper strip was placed on the balloon, one next to the other and we finished when we had completed at least 3 layers of newspaper strips on the balloons.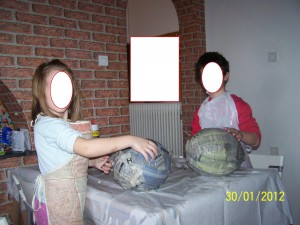 Then, we let the balloons dry for a whole day!
Today schools were closed owing to the snow and cold, so here we were again, painting this time the balloons with the white spray! Actually, you can use tempera or finger paints instead (it's more fun for the kids and the result will be much more impressive if you use a variety of colours!), but the spray works faster, so that is what we did (the kids were not involved this time, this was all up to me, so that they wouldn't inhale any chemicals). Again, we let them dry for a while. And then, the fun begins!!! We popped the balloons, made an opening at the back for the head to enter and we cut eyes and mouths! Then, they used their imagination and any materials I happened to have at home to decorate their masks any way they liked! Here's what they made!
While we were waiting for the spray paint to dry on the balloons, we made some simple cardboard masks (we printed them from www.paidika.gr)! The kids had so much fun with them, but not as much as they did with the ones that covered their whole head!
Although it takes time to make a mask like this, we actually attempted to make it at the 1st Primary School of Almyros with the 6th graders a couple of years ago. My learners back then did a wonderful job indeed and they used their masks at the carnival party at school, they took pictures of them for the English School Newspaper and they decorated the school corridors with them throughout the Carnival period (they thought of it as something like a carnival art exhibition)! They even wrote an article for the school paper on how one can make the mask (You can read the article – in Greek – here). You can try this at school, too, by all means, but it is definitely going to take you more than one teaching hours if you decide to do everything with your learners involved. In my case, learners spent one teaching hour to place the newspaper strips on the balloons, I spray-painted them all on my own and, when they were dry, the learners took them at home to decorate them any way they liked! It would have been much more fun if they had decorated them at school, but the element of surprise when they brought the masks at school was almost equally enjoyable and fun (it also boosted the learners' self-confidence, given that learners from other classes gathered to check the masks out and ended up congratulating the learners involved)! Here are some pictures of my learners working on the masks at school and some pictures that present what they have created!