This schoolyear, in 2nd Junior High School of Amaliada,
as part of our Erasmus project activities and "our school getting greener" project ,
in October 2018 we applied for and in January 2019 installed  special Recycling bins for small household appliances !!!
Our teacher Mrs Stavroula Salvanou , teacher of the Erasmus+ pedagogical team  of 2nd Junior High School of Amaliada, contacted " Photokiklosi S.A. " (as part of their cooperation with Greek Ministry of Education) and applied for the equipment. The bins arrived and we are very happy they are now installed in our school!
Fotokiklosi S.A. is a nonprofit e-waste producer responsibility organizationapproved by the Greek Ministry of the Environment, Energy and Climate Change. The main purpose of Fotokiklosi SA is to contribute to the nations recycling system and to the protection of the environment within the scope of the Greek and European legacy.
 https://fotokiklosi.gr/?lang=en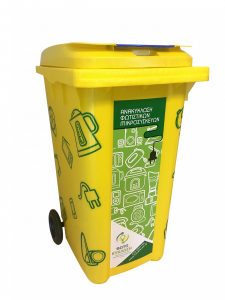 Now all students families , teachers and school staff can bring from their homes all the following small household appliances for recycling!!!
• Vacuum cleaners
• Carpet sweepers
• Other cleaning appliances
• Appliances used for sewing, knitting, weaving and other appliances used to process textiles
• Irons and other appliances for ironing, mangling, and other care of clothing
• Toasters
• Fryers
• Grinders, coffee machines and equipment for opening or sealing containers or packages
• Electric knives
• Appliances for hair-cutting or drying hair, brushing teeth, shaving, massage and other body care appliances
• Clocks, watches and equipment for purpose of measuring, indicating or registering time
• Scales
IT and telecommunications equipment
• Pocket and desk calculators
• Telephones
• Cordless telephones
Consumer equipment
• Radios
• Videocameras
• Entry phones – video door phone installations
• Hi-fi recorders
Electrical and electronic tools
• Drills
• Tools for riveting, nailing or screwing or removing rivets, nails, screws or similar uses
Monitoring and control instruments
• Smoke detectors
• Heating regulators
• Thermostats
• Measuring, weighing or adjusting appliances for household or laboratory equipment
• Other monitoring and control instruments used in industrial installations (e.g. in control panels)
Lighting equipment
• Luminaires for fluorescent lamps with the exception of luminaires in households
• Straight fluorescent lamps
• Compact fluorescent lamps
• High intensity discharge lamps, including pressure sodium lamps and metal halide lamps
• Low pressure sodium lamps
• Other lighting or equipment for the purpose of spreading or controlling light with the exception of filament bulbs
School projects information and application form by Fotokiklosi (in greek only):
https://fotokiklosi.gr/%CF%83%CF%87%CE%BF%CE%BB%CE%B9%CE%BA%CE%B7-%CE%B5%CE%BD%CE%B7%CE%BC%CE%B5%CF%81%CF%89%CF%83%CE%B7/