DISSEMINATION AND PRESENTATION OF OUR PROJECT 2017-2020
All our project products were communicated for three years through email , sent to all our region's and state public schools, to our students families guardians and parents, posted regularely on school sites and our Erasmus blog , to all local and regional authorities, educational , scientific and other institutions , local and national press, the dissemination and presentation took place in site at our schools and through online etwinning events and other digital platforms and forums (especially during the last year because of the Covid19 pandemic) etc Our project progress was covered and presented too by Italian and Greek press , on on-site Genova city official educational dissemination events, Greek regional TV stations, official Educational sites of Western Greece Periphery, and our videos are uploaded on our special Youtube channel too and links were widely shared by Facebook, Instagram and other media from all our students, friends and supporters,
as from people who appreciated and admired our work too!!!
Our detailed work progress blog  : https://blogs.sch.gr/samiamidi/
Our digital magazines : https://issuu.com/europeanschoolsgogreen
Our "highlights" site : https://europeanschoolsgogreen.wordpress.com/
Our Video channel on  Youtube: https://www.youtube.com/channel/UClyCWViE3mXXVOxcutMcpSA
our work progress detailed calendar
https://teamup.com/ksa2i9snp37o13p6dk
Our project on eTwinning / Twinspace platform : https://twinspace.etwinning.net/34044
Next DISSEMINATION, PROMOTION AND PRESENTATION EVENTS ON ETWINNING :
https://live.etwinning.net/events/event/126800
https://live.etwinning.net/events/event/126804
Galileo Galilei Technical High School – ITALY
The  Galileo Galilei school's page on the internet for our project :
https://www.ecg-genova.edu.it/pvw/app/default/pvw_sito.php?sede_codice=GEII0017&page=2279822
Press release about our ERASMUS PLUS project – 15.02.2018
Presenting our Erasmus Plus project at the big event organized by the Municipality of Genoa at Palazzo Rosso (Red Palace)10.12.2018 !
Video of the presentation :
The article on our Erasmus Plus project on the national press (La Repubblica, 13/12/2018)!!!
Galileo Galilei Technical High School presented our project during two STEM conferences held in Genoa !!!
STEM conference April 2019  :
Galileo Galilei Technical High School students have shown the working principle of their solar tracker.
And STEM conference  in November 2019! :
Our project prsented during Schools orientation events, Genova November 2019
Another Italian article  about our project on the local press (Il Secolo XIX, 27 November 2019):

2nd Junior High School of Amaliada – GREECE
European Projects Team of West Greece (EU-PDEDE) articles about our project!
(in Greek)
Regional Directorate of Primary and Secondary Education in Western Greece, PDEDE also includes our project digital magazines in "Best Practices" section:
https://blogs.sch.gr/eu-pdede/best-practices
http://pdede.sch.gr/2018/01/16/2o-gymnasio-amaliadas-kales-praktikes/
And about our second "Science" year progress , another article of PDEDE
http://pdede.sch.gr/2019/05/31/sto-quot-etos-epistimis-quot-vrisketai-to-2o-gymnasio-amaliadas-meso-toy-erasmus-quot-european-schools-go-green-quot/
About our students mobility to Genova , Italy 2019
https://ilia24.gr/index.php/amaliada-koinonia/25709-ekpaideytikh-ekdromh-mathhtwn-kai-ekpaideytikwn-toy-2oy-gymnasioy-sthn-genoba-ths-italias-fwto
Sophia Kouzouli,  etwinning Greek Ambassador awarded with 1st European Etwinning Prize  , wrote an article on our project and shared it on etwinning !!!
https://blogs.sch.gr/samiamidi/?p=303
The 1st European prize awarded Greek etwinning embassador Mrs Sophia Kouzouli, also left an important comment on our blog! – on December 15th, 2018 at 06:29   Sophia Kouzouli, eTwinning ambassador Says:
"Congratulations on your inspiring collaborative work!
Students' work in national and transnational groups on issues of major importance, like sustainability, renewable energy sources and climate change, will empower them to be active citizens! "
Article for our last year's work – January 2020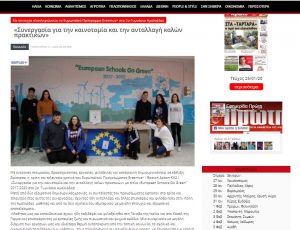 https://www.protinews.gr/blog/synergasia-gia-tin-kainotomia-kai-tin-antallagi-kalon-praktikon
Articles about our Erasmus+ School Go Green Recycling project 
https://ilia24.gr/index.php/amaliada-koinonia/22530-anakyklwsh-mikrosyskeywn-2o-gymnasio-amaliadas-to-%C2%ABprasino%C2%BB-scholeio-siga-siga-prochwra-fwto
2ο Γυμνάσιο Αμαλιάδας – Ανακύκλωση Μικροσυσκευών στο σχολείο μας!
Article in greek in local Newspaper about our Third and Last Organisational Transnational Meeting in Amaliada, Greece, 22-23-24 October 2019
Our third and last transnational organisational meeting in Amaliada, Greece
Local Press articles about the visit of the Greek and Italian teachers in Amaliada Town Hall and gifts exchange between our visitors and Municipality authorities repsesentatives in printed and digital press ( In  Greek)
Στο Δήμο Ήλιδας καθηγητές από το πρόγραμμα Erasmusplus που υλοποιεί το 2ο Γυμνάσιο Αμαλιάδας
Από την Γένοβα στην Αμαλιάδα: Στο Δήμο Ήλιδας καθηγητές από το πρόγραμμα Erasmus+ που υλοποιεί το 2ο Γυμνάσιο Αμαλιάδας
 Also our third transnational organisational meeting was covered by television channel ORT
Other articles about our work in Greek Press and Greek Newspapers
Printed article bout our work progress and mobility to Genova , April 2019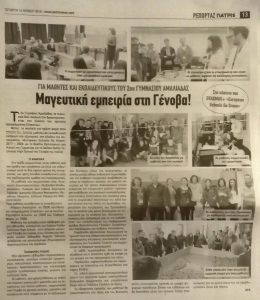 Some links to other articles in digital Press 2017-2019
http://www.patrisnews.com/synechizi-tis-drasis-tou-to-2o-gymnasio-amaliadas-me-ormi-ke-to-2019/
https://ilia24.gr/index.php/amaliada-koinonia/8815-2o-gymnasio-amaliadas-to-erasmus-anoigei-dromoys,-allazei-zwes-fwto
Το 2ο Γυμνάσιο Αμαλιάδας στο δήμαρχο Ήλιδας με δώρα από τον δήμαρχο της Γένοβας
http://www.patrisnews.com/2o-gymnasio-i-amaliada-synanta-tin-evropi/
http://www.patrisnews.com/2o-gymnasio-amaliadas-i-mathites-dichnoun-to-dromo/
http://www.patrisnews.com/apologismos-me-thetiko-prosimo-gia-to-2o-gymnasio-amaliadas-ke-ti-symmetochi-tou-sto-erasmus/
http://www.patrisnews.com/to-pirama-tou-eratostheni-sto-2o-gymnasio-amaliadas/
https://ilia.news/2%CE%BF-%CE%B3%CF%85%CE%BC%CE%BD%CE%AC%CF%83%CE%B9%CE%BF-%CE%B1%CE%BC%CE%B1%CE%BB%CE%B9%CE%AC%CE%B4%CE%B1%CF%82-%CE%B1%CE%BD%CE%B1%CE%BA%CF%8D%CE%BA%CE%BB%CF%89%CF%83%CE%B7-%CE%BC%CE%B9%CE%BA%CF%81/
https://www.ilidakampos.gr/index.php/epikairotita/6444-to-peirama-tou-eratostheni-sto-2o-gymnasio-amaliadas
our school's Erasmus+ "European Schools Go Green"team joins the great national "Lets do it Greece project" and shared with all the ecological network our project
Some articles about our first year project progress and exhibitions etc on printed Greek press
Goethe Gymnasium Kassel – GERMANY
Article on German Press about our Project – October 2017

Goethe Gymnasium Germany Press Release – STADTTEILE – September 21st 2019