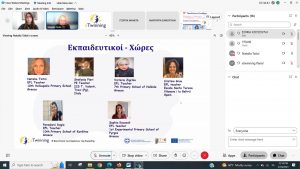 Volunteers' Challenges #SkillsLabs eTwinning Project, which was conducted at the 1st Experimental Primary School of Pyrgos, in 2021-22,
was presented in the 8th Panhellenic eTwinning Conference on Saturday  February 18th, 2023.
Huge thanks to the amazing partners, Natalia Tzitzi, Paraskevi Dogia, Victoria Zigrika, Cristina Crau and Stefania Pieri, and participating students for this inspiring collaboration! ❤
Huge thanks to all the amazing volunteers for their contribution!????
✅8ο Panhellenic eTwinning Conference
✅18.02.2023 #etwinconfgr
#collaboration #communication #creativity #criticalthinking #STEM #Volunteers #students #teachers #agentsofchange