"Story Feast"
https://twinspace.etwinning.net/25390, the 5th graders of 1st Primary School of Pyrgos in collaboration with the students of a Czech and a Polish school did this project from Dec to June 2017.
Solving Riddles
Students of all schools, in pairs or in groups of three, decided on the book or film whose plot they would like to use for their riddles. They wrote a very short summary without revealing the name of the story but using keywords to help their partners from the other schools find the answer. They used voki to make their riddles. They selected an avatar, customized it, wrote their summary, added a background, published it and then shared their story. Their peers watched the presentations, listened to the avatar and then wrote their answers on twinspace. Students were so attracted to it that they even made their own Vokis at home!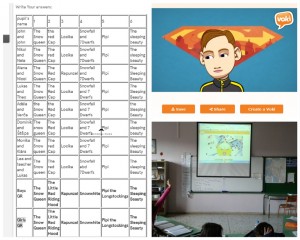 Playing Online Games
Students of the partner schools made their own online games to play with their peers. The focus of the games was to help them practice vocabulary and grammar while cooperating and having fun. They solved a crossword and played hangman, who wants to be a millionaire and a matching game, all of which were created with LearningApps.org. Students also played two Kahoot games, on vocabulary and the use of present simple and present continuous.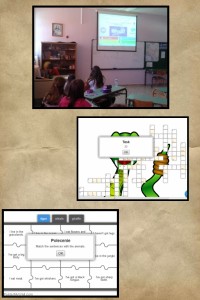 Reflecting and evaluating
Students reflected on their work and answered a questionnaire which was created with the online application EasyPolls at http://www.easypolls.net/poll.html?p=5926d2a1e4b027b19716427e. In this way both teachers and students became more aware of the collaborative process of the project, the products and their preferences.