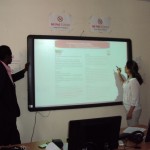 It was back in the year 2013 when we started talking in my school, the 3rd Geniko Lykeio Larissas about the potential of applying for an ERASMUS+KA1 grant. We finally decided to design an action plan which responded to the teachers' interests and learning needs and which we submitted for approval in 2014. To our satisfaction, our action plan was approved and that opened up opportunities for great learning experiences for us.
The aim of our plan was to update our knowledge in the foreign language methodology and to enhance our competences in the use of technologies in teaching. In the framework of our project, named «Το σχολείο μας σε βηματισμό 21ου αιώνα» 2014-1-EL01-KA101-000313, three teachers, including myself, had the opportunity to attend training courses , one in Mallorca, Spain and two in Besancon, France.
In Mallorca, the teacher Ms Eirini Raptopoulou, attended a five-day training course and a two-day international conference on CLIL methodology, observed classes where CLIL was applied, and participated actively in workshops where she learned to design and develop her CLIL lessons. The course was organized by the Regulation, Innovation and Vocational Training Directorate of the Ballearic Islands, one of the partners of the CORE Project. In Besancon, France and in CLA – Centre de Linguistique Appliquée de Besançon of the University of Franche-Comté, the teacher Ms Victoria Dimitriou and I, we attended a two-week training course on the use of Technologies in teaching. More specifically, we were trained in the design and development of educational scenarios including ICT tools. Also, we learned how to prepare our lessons and activities for our learners with the help of the software Smart Notebook, how to use the interactive board and the image and video in our classes. Finally we discovered a big number of resources of teaching materials and how we can have access to them. In short, we all had rich learning experiences we tremendously appreciated.
The Erasmus+KA1 program, which gives the opportunity to schools to train their staff and facilitates the mobility of individuals, offers many more benefits to teachers than simply some training. After this experience, we believe that the participation in such programs helps teachers increase their self-esteem and self-confidence, improve their knowledge in social and cultural issues through their interaction with teachers from other countries, develop their empathy,  and  enhance their possibility of professional development as well as their prospects of collaboration and common projects with teachers form other countries which can benefit both them and their learners. Finally, they can improve their language skills and multiple soft skills.
To sum up, when such a project ends, you feel you would really like to start again with a new one. That's why I definitely recommend them.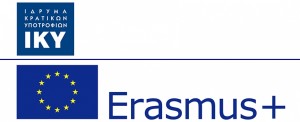 Ετικέτες: CLIL, ERASMUS+KA1, ICT, interactive board, teacher training