ECOMOBILITY PROJECT IN JUNIOR HIGH SCHOOL OF GAVALOU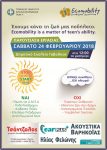 During the current school year (2017-18) the C' grade students from Junior High School of Gavalou are participating in the Ecomobility project.
The aim of the Ecomobility campaign is to make the students sensitive over matters of movement around the roads of a city/village. The students are expected to realize that all the citizens (old people who cannot walk properly, pregnant women, mothers with prams, people with special needs, cyclists, children, everyday people in general) have the right to free movement. The conditions and the attitudes concerning our movement are a sign of our civilization level. The improvement of these conditions and the positive change of attitudes contribute to the building of a quality life.
In order to achieve the above mentioned aims our students have been involved in a variety of actions:
They are going out in the roads of our area and they are taking pictures or shoot videos of problematic situations (destroyed roads and road-signs or even lack of proper signing, roads with a lot of sharp turns without protective side-bars, lack of pavements or pavements with lots of obstacles, lack of cycling lanes, lack of ramps for wheelchairs or lack of elevators for people with special needs, illegal parking of vehicles, schoolyards in terrible conditions, schools without proper entrances, stray animals, small rivers and ditches as a serious cause of floods because they are filled with rubbish,…).
They have prepared a questionnaire about all these problems and have distributed it to other students and their parents.
They are taking interviews from representatives of various local authorities (Mayor or Deputy Mayor of our Municipality, Director of an Institute for children with special needs, Directors of Local Transport Services, School Headmasters, local people,…).
They are staging "accidents" with bikes or children playing on dangerous roads.
They have made and distributed posters, leaflets and T-Shirts with Ecomobility slogans.
They have written a mini-script for a small play about the movement difficulties in our area.
They are uploading some of the videos and the interviews on a youtube channel (Evdokia Papoutsi).
They are going to present their final project to an Ecomobility committee on 24th February 2018 using a Power-Point presentation. Their presentation will be assessed by this committee and will enter a competition. The students with the best project will travel to Brussels this summer.