18 Δεκέμβριος 2013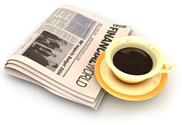 How to write a magazine article
Blank page. You roll the paper into the typewriter and sit there poised with your hands on the keys. Or maybe you turn on your computer and sit with an empty screen. What do you write?
Many writers and would-be writers have told me how that blank page petrifies them. In this article, we'll explore my technique for putting together a magazine article from idea to finished product.
It's a rare day that I have trouble putting those initial words on paper. I always do some preparation ahead of time, then use a slight trick. Ideas for magazine articles are everywhere and the places to write are just as plentiful. Maybe you have an interesting personal experience story that you can capture?
The first question to ask is: who is my audience? What publication will use this article? The possibilities are end-less: adult, women, men, children, teenagers, or youth. Are they in a specialized occupation such as pastors or school-teachers? Are they a certain age? The important thing is to be sure to target a specific audience.
Tell A Story
The key thing to remember is that you're telling a story to your readers. That means you need a beginning, a middle and an end. It also means you need to think about where you're taking your reader and create a logical path to that end point.
Beginning Your Magazine Article
The first thing you need to do is get people to read your article, so you need to find a way to grab them. Make sure to choose a topic that you're an expert on or you feel interested in.  When I interview people, I often start the resulting article with a quote or an anecdote from their life. However, you can also set the scene or use anything that will get attention.
The Middle
With most magazine articles, you talk to a person or people. People like reading about other people, so if your interviewee says something good, use a quote rather than reported speech. This makes your magazine article more interesting.
Ending Your Magazine Article
Finally, end with a bang. This could be an important point, a revelation, or another anecdote or quote. The idea is to satisfy your reader and to get that reader interested in your other writing.
Good writing is rewriting
Try to look at your writing through objective and impersonal eyes. Consider the purpose of your article. Was it to motivate readers to action? Did it achieve it's purpose?
Sweep through the article and check it for spelling and grammar mistakes. You'd be amazed to know how many articles are submitted for publication with typing errors and simple grammatical mistakes. As a writer, you want to present the best article possible. Give it an additional check. If you have the opportunity, you might want to allow a friend or a fellow writer to read your article and give you feedback.
Κάτω από
articles
|
0 Σχόλια