1. See what we brainstormed about spring. Be sure that we'll enrich our vocabulary after the end of the project. Click here.
2. Play these games with us. Click here.
3. Look at these paintings and discuss what you can see with your partners.Report to the class. Click here  to view the paintings.
4. We received our partners' brainstorming mindmap on spring. Use as many words as you can to draw spring pictures in your groups.

5. THIS IS HOW EACH SCHOOL RESPONDED TO THE OTHER!

6. STUDY THESE FLASHCARDS AND THEN PLAY WITH YOUR PARTNER TO SEE WHO REMEMBERS THE MOST:
SPRING FLASHCARDS
7. RECITING SPRING POEMS FOR OUR FRIENDS

8. OUR MINI BOOKS ON SPRING
9. View our paper flower wreath for our Spring Project!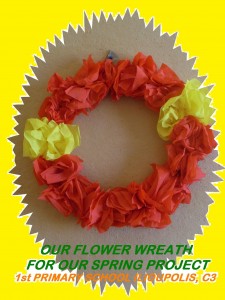 10. Read our Spring POEMS:
11. VISIT OUR FRIENDS' WIKISPACE   (Ms Catherine Georgopoulou and class C of 20th Primary School of Ilioupolis)