Here is stated the second part of the survey which presents based on the pupils' opinions the names of traditional professions that are no longer used today or will soon disappear. The given order is alphabetic.
Results of pupils opinions of 1st Evening High School of Piraeus from Greece:
basketware (basket waver), bell founder, bus conductor, butcher, chimney sweep, coachman, concierge, cooper, coppersmith, darning woman, draper, embroiderer, engraver, farrier, furrier, hand-made boat builder, handmade manufacturing of music instrument, hurdy-gurdy grinder or generally the organ grinder, itinerant ice cream vendor, itinerant tinsmith, knife sharpener, knitting of fishing-nets, lighthouse keeper, midwife, milkman, miller, mule driver, newsboy, puppeteer, rural constable, saddler, sewer, shepherd, shoemaker, shoeshiner, soap maker, sponge diving, street vendors (huckster, peddler), tanner, tinner, typist, upholsterer, weaving with loom.
Results of pupils opinions of Aydınlıkevler Ticaret Meslek Lisesi from Turkey:
antique dealer, archeologist, astronaut, basketry (basketware), calligraphy, car mechanics, carpenter, crafts, factory  workers, farming, greengrocer, grocery, itinerant trade (peddler), maker or seller of brooms, Maker or seller of panniers (porter), making or selling packsaddles or porters´ frames, making or selling sherbet, officer, operating a teahouse ( the raising of tea), Person who tows a boat (tower), pottery, scavenge, secretarial, shoemaker, smithery, teacher, the locksmith, turnery, TV repairman, veterinary, weaving, work of a tinker.
Results of pupils opinions of Escola Secundária de Caldas das Taipas from Portugal:
craftman, embroider, farmer, goldsmith, grocer, knitter, maid, maker of chests, metal polisher, midwife, milkmen, neddle maker, polisher shoe repair, shoe maker, stenographer, tailor, welder.
Also the following conclusions arise from Escola Secundária de Caldas das Taipas from Portugal during the particular survey:
We also have reflected that the technological advances simply banned some of these professions as people left their rural homes and come to the city to work in factories and therefore have a fix salary. As time went by robots and other sophisticated equipment could make hundreds or millions of the above devices, in large quantities and much more affordable. Many people abandoned their old posts as they were no longer profitable.
Yet times have deeply changed, there's a huge tough crisis and people lost their homes and jobs (this is our Portuguese situation now). Many are trying to recover these jobs, as repairing things came out as an alternative to buy new things, because people are moneyless.
Results of pupils opinions of CIPFP Ausias March from Spain:
barber, bell ringer, beekeeper, blacksmith, carpenter, farmer, fisherman, grinder, plumber, potter, sharpeners, shoemakers, typewriter.
Results of pupils opinions of John Paul II High School from Poland:
bus conductor, miller, smith, shepherd, lighthouse keeper, shoemaker, knife sharpener, coachman, rural constable, saddler, typist, circus artists.
Results of pupils opinions of Základná škola ul. karpatská from Slovakia:
beekeepers, dressmaker, farmers, manufacture ceramics, tinkerman, street sweepers.
Results of pupils opinions of Lycée Giraux Sannier from France:
barber, cashier, customs officer, door to door salesman, factory workers, farmers, fishermen, glass blower, manual jobs, tanker, teacher, traditional jobs.
Results of pupils opinions of PGMET «Gen. Ivan Bachvarov» from Bulgaria:
bakers, barbers, beekeepers, boat builders, bus conducters, craftmen, carpenters, factory workers, midwives, millers, miners, potters, teachers, traffic police officers, typists, vendors, workers in public toilets.
Results of pupils opinions of Jonavos Senamiesčio gimnazija from Lithuania:
carpenter, cashier, cleaner, librarian, lumberjack, manager, milkman, pilot, postman, shop assistent, smith, teacher.
Results of pupils opinions of Obchodní akademie, České Budějovice from Czech Republic:
bell founder, blacksmith, farmer, gilder, glassmaker, chimney sweeper, miner, shoemaker, tannery worker, toolmaker, watchmaker.
Results of pupils opinions of La Milagrosa Segorbe from Spain:
barber, bells ringer, bus or train conductor, errand boy, farmer, horses blacksmith, knives sharpener, night watchman, preacher.
Results of pupils opinions of Starokostiantyniv Gymnasia from Ukraine: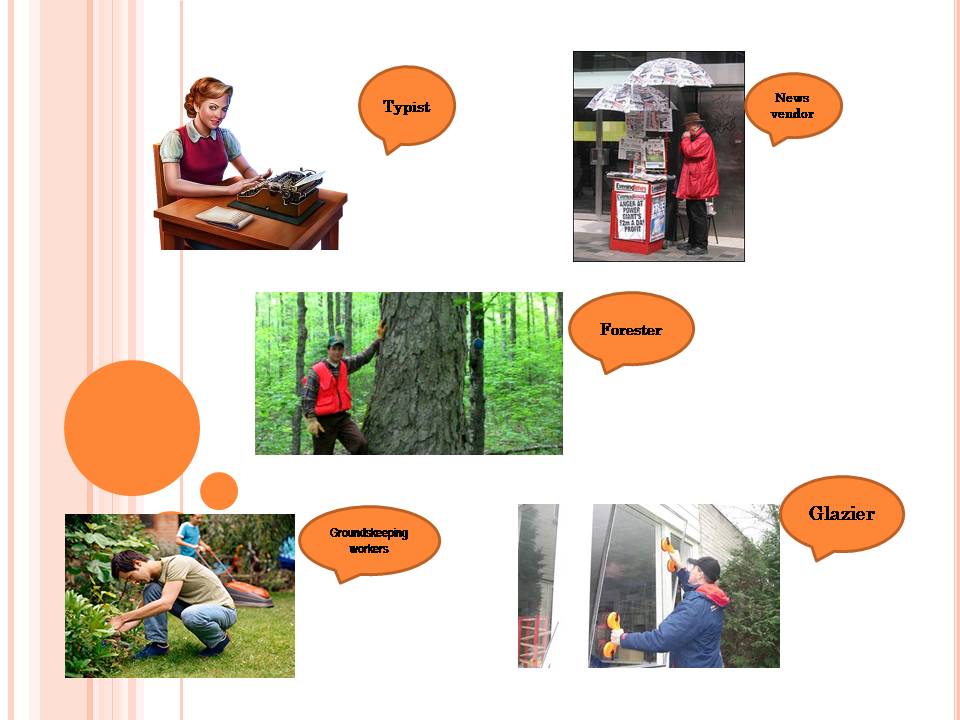 Results of pupils opinions of IPSSAR «M.G. Apicio»Anzio (RM) from Italy:
Crafts jobs, Printing, Postman, Travel agency.
Results of pupils opinions of Biga Mehmet Akif Ersoy LisesiÇANAKKALE from Turkey:
blacksmith, carpenter, coppersmith, door to door, farmer, innkeeper, lumberjack, milkman, postman, pottery, puppetry, salesperson, sewing, shepherd, shoemaker, typist, watchmaker.